Developer Spotlight, January 2013: Neon Play
We're kicking off 2013 with one of our favorite developers from across the pond, Neon Play, located in Cirencester, UK. They're behind iOS games like The Big Quiz series, Carpark Carnage, Traffic Panic London and many, many more.
Oli Christie, CEO of Neon Play, was nice enough to take some time to answer some of our questions about his company, his games, and he even imparted some knowledge to help other mobile game developers that are just starting out. Read on for all the juicy details.
Chartboost: What do you LOVE about making games?
Oli Christie, Neon Play: I always say to my team that if you can't enjoying making games for a living, then you're in the wrong industry or you need your head tested. Quite simply, we're all just very lucky to have the skills to make games as it's a wonderful job to have - hugely fun, very rewarding and always interesting. There aren't many careers where you create products which have to be fun, so we're blessed to be paid to do this.
I love the process of coming up with a good idea that is simple enough to be picked up quickly and addicitve enough to keep people coming back time after time. I love the art side of the process where the look and feel of the game seems right for the target audience and the game. And I love making a game playable and the feeling where you know you've cracked it.
What's the most important thing you've learned about your users since you started Neon Play?
They're unpredictable! When we started Neon Play in 2010, we had a strategy to build different genres of games for different users. Sports games like Flick Football and Golf Putt Pro; casual games like Paper Glider and Crazy Copter; shooting games like Bravo Force: Last Stand; and car games like Traffic Panic London.
The reviews you get sometimes make you proud of the work you've done, sometimes they make you angry with the sheer stupidity of what people are saying, and sometimes you get really valuable feedback. It's filtering the important bits that is key.
But having had over 45 million downloads in under 3 years, it's hugely rewarding that we've got our games into millions and millions of people's hands all around the world.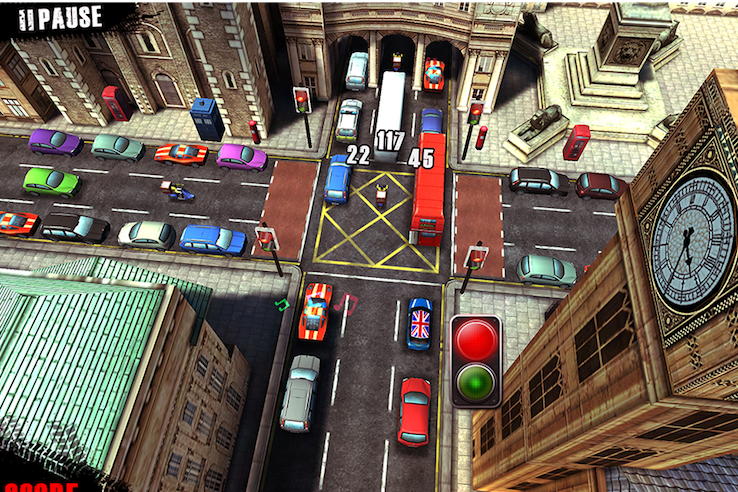 Traffic Panic London
As you've built your company, what's the one special thing that makes Neon Play different from other gaming companies out there?
I believe our culture and ethos has helped us grow into a strong and close-knit studio in the untraditional gaming hub that is Cirencester in the Cotswolds in the UK.
When I started the company, I knew I wanted to build a company where people were the most important thing and we respected the fact that everyone, no matter how junior or senior, had good ideas - everything was up for discussion and the best idea would win.
Click here to read all about our company culture.
We also created a list of 10 reasons to join Neon Play, which included a posh bog roll guarantee, your birthday as a free day off, free beer on Fridays and we give 1% of our profits to local charities. These 10 reasons have proved really popular. Click here to read the full list.
If you could give one piece of advice to a game developer that's just starting out, what would it be?
I think it's the best job in the world when everything is going well, but I have to say that the mobile market has got hugely competitive in the last two years and without decent funding, a stunningly unique standout game or bucketloads of luck, it will be hard to succeed in 2013.
New starters need to thoroughlly research the market before they create a new game, work out ways to monetise a free game with a deep and long-lasting experiences and do all they can to get editorial coverage with Apple and Google, which are the two stores currently worth launching for.
Bravo Force: Last Stand
What are the markets you're focusing on? Any interesting trends you've seen when looking at users around the world?
To date, we've focussed on the main global territories and the majority of our games have only been in English. But our latest game will be translated into all the EFIGS countries, plus Russian, Chinese, Japanese, etc, so we will be truly targeting all markets.
Clearly the emerging BRIC markets are exciting new areas of growth, and Asia is an untapped market for us with monster potential, as is the whole booming smartphone market.
Why are you working with Chartboost? What makes us stand out from the rest?
Chartboost has created a service that is just what mobile developers were crying out for. The ability to cross-promote your own games, do install swaps with other developers, plus earn revenue from your inventory, which makes for a strong product.
On top of that, everyone at Chartboost we've worked with are friendly, decent, fun people and those are the sort of companies we like working with.
Give us a glimpse into one of your upcoming projects for 2013. What can people expect from Neon Play?
Well boringly, it's all a little bit top secret, but we are working on a much larger game than we've ever done before and we truly believe it will make big waves in the mobile and games industry.
While we make that game, we are also working on a series of Big Quiz apps (launched through our sister developer Jick Jack) and these are starting to make some good traction. To date, we have the Big Movie Quiz, Big App Quiz, Big Celeb Quiz, with the Big Book Quiz about to launch as well. They're a well-branded series of apps and we really hope and believe they will catch on.
Click here to see the Big Movie Quiz.
Big thanks to Oli and the whole Neon Play team for their time. Check back at the end of February for the next installment in our Developer Spotlight series!